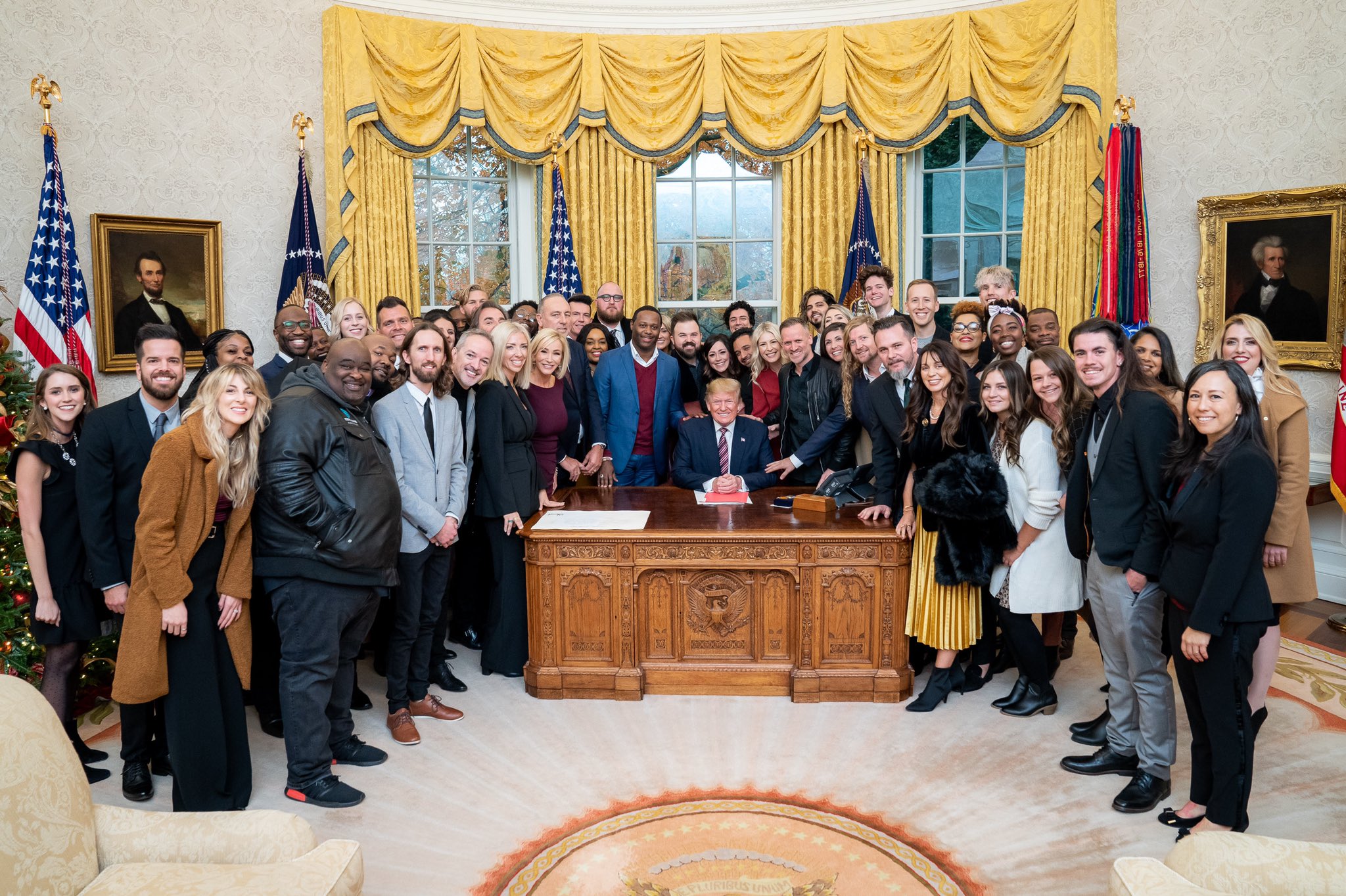 (Before you start reading, can I ask you a favor? Read the whole entire post, pretty please.)
There's been a lot of talk on twitter since this group of worship leaders visited the White House and shared about their experience on social media. From what I can tell, most people are pleased that faith leaders are praying for the president. That makes sense to me. What people aren't pleased about it, is faith leaders also saying that so many good things are coming out of the White House and that everyone there is focused on not leaving behind the marginalized. Other Christians are calling bull, because President Trump's words, actions, and policies have hurt many people who are marginalized.
President Trump has said lots of racist, anti-immigrant, and misogynistic things. In office, he's followed up on many of these comments with policy decisions. His administration has torn apart immigrant families at the border and refused to let doctors give detained immigrants flu vaccines. He's lowered the refugee admissions ceiling every year, from 45,000 to 30,000 to 18,000. Before and during his campaign, and throughout his time as president, he has consistently demeaned the marginalized with his rhetoric and harmed them with his policies.
Jesus, on the other hand, was much more interested in standing with the marginalized than pleasing the powerful. In the parable of the Good Samaritan, He challenged Jewish stereotypes about people from other races, ethnicities, and nationalities (Luke 10:25-37). He interacted with a Samaritan woman in kindness and grace (John 4:1-42). Jesus was actually a Middle Eastern refugee Himself (Matthew 2:13-15). He cleansed lepers (Mark 1:40-42), called a rejected tax collector to be his disciple (Matthew 9:9), respected the poor (Luke 21:1-4), and dined with outcasts (Mark 2:15-17, Luke 19:1-10). Rather than appealing to the powerful, he turned existing social hierarchies on their head; one of my favorite tweets from this week said that Jesus "rode into Jerusalem on a donkey to mock the entire system of empire and power." Jesus' pattern was making the leaders of his day mad because He loved so boundlessly.
I think these contrasting patterns are why I feel troubled by the worship leaders enthusiastically supporting President Trump. Christ deeply loves the people whose pain has been caused, amplified, or invalidated by the current president's words and actions. And even if the president has helped some marginalized populations, like Kari Jobe says he has with fighting human trafficking, we can't ignore the track record of bigotry. We must applaud some actions and criticize others.
I'm incredibly challenged living in that tension. I want to love all people: the religious far-right, immigrants, the Trump administration, people of color, women, members of the LGBTQ+ community, people with disabilities. I pray for the powerful and the powerless.
But I also feel convicted to love the powerful by standing with the powerless. Because ultimately, when one person is hurt, we all are. I believe in a common humanity such that, when an ICE or CBP agent rips children away from their immigrant mother, that border patrol officer is also losing. When we demean the inherent worth of others, we miss an opportunity to learn and grow in the wonderful presence of people who are different. As one humanity, we win together or we lose together. In this moment, love requires me to boost our chances of collective victory by supporting the marginalized, oppressed, and vulnerable. I can't do that without calling out the powerful people who marginalize, oppress, and increase the vulnerability of those populations.
I'm not passing judgment on President Trump, anyone in his administration, Kari Jobe, Brian and Jenn Johnson from Bethel Music, or anyone else involved in the faith summit (which ironically seems to have only included Christians). I'm passing judgment on their actions, which I believe is an entirely different and incredibly healthy thing to do. If my actions hurt someone, I certainly want them to call me out. And I also want supporters of that hurting person to show their support publicly, in part by publicly criticizing my hurtful actions. It's how I want to be treated, so it's how I'm trying to treat the president and the religious leaders surrounding him, with this blog post.
But that's not the only reason why I'm writing this. Another tweet inspired me by sharing a story about A.J. Muste. A reporter asked this pacifist activist if he thought his protests, standing alone outside the White House with a candle, would actually change policies. Muste responded, "I don't do this to change the country. I do this so the country won't change me."
Given the dangerous political climate, where will I be in five years if I don't actively resist white nationalism and publicly stand with the marginalized now? If I don't shake writing this, thinking about what some of my peers who support Trump might say? If I don't take a comparatively minuscule risk to prevent this country—the country whose Statue of Liberty boasts "Give me your tired, your poor, your huddled masses yearning to breathe free" but whose immigration policies say anything but—from changing my character?
For me, it comes down to this: Jesus cared more about standing with the marginalized than pleasing the powerful. To follow Him, I must embrace the same mentality and follow it up with actions. That's uncomfortable. It's countercultural. It goes against every natural inclination to shrink away from conflict and make sure everyone still likes me. But it's the way of Love. And ultimately, it is more fulfilling and life-giving for everyone involved than the way of complacency. Let us reject the way of complacency, of enthusiastically posing for cheesy photo-ops with the president but not speaking out against some of his more destructive patterns and policies. May we walk in the way of Love by standing up for our hurting, marginalized, oppressed, vulnerable brothers and sisters.